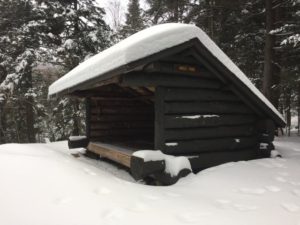 The Northville Placid Trail Chapter announces a 2019 group winter through-hike of the Northville Placid Trail. The NPT runs approximately 140 miles from Northville to Lake Placid, NY. Completed in 1924, it is the oldest "100+ mile" marked trail in the country. Though many have thru-hiked the NPT, very few have snowshoed it as a thru-hike in winter. It's remoteness in spots, high snowfall and unbroken trail make it a demanding challenge in winter.
This trip is for experienced winter backpackers and will utilize an application process that includes an initial application and telephone interview of finalists to ultimately establish a group of up to eight for this expedition. To receive more details about the application process, please e-mail nptrailoutings@gmail.com, and put "Winter Thru-Hike" in the subject line. The application process will be open until July 1, 2018. Finalists will not be selected and contacted until after that date. Please remember, we are a small, volunteer organization, so do not expect immediate responses to e-mails. We expect a high volume of applicants, and to manage the volume, we will only be telephoning finalists. Those not selected as finalists will receive an e-mail notification by September 1, 2018.
Day

 

Hike

 

~ Mi.

 

1

 

Northville – Woods Lake (camping) (alternatively, transport back to town if gear or other issues at mile 12.1)

 

12.4

 

2

 

Woods Lake – Silver Lake lean-to

 

12

 

3

 

Silver Lake – Hamilton Lake Stream lean-to

 

11.4

 

4

 

Hamilton Lake – Piseco, including road walk (motel) (resupply)

 

7.3

 

5

 

Piseco – Spruce Lake 2 lean-to (SL 3 lean-to is .2 away; group could split)

 

10.3

 

6

 

Spruce Lake 2 – Beaver Pond lean-to

 

11.9

 

7

 

Beaver Pond – Wakely Dam (camping) (possible delivered resupply)

 

10.4

 

8

 

Wakely Dam – Stephens Pond lean-to

 

8.8

 

9

 

Stephens Pond lean-to – Tirrell Pond lean-to (possible resupply delivered at Hwy 28/30) (alternatively, lodging at 28/30, which could add a day to the trip)

 

8.1

 

10

 

Tirrell Pond to Long Lake, NY (hotel) (resupply and rest)

 

10.1

 

11

 

Long Lake – Kelly Point lean-tos (2 lean-tos)

 

4.8

 

12

 

Kelly's – Cold River 3 lean-to (Cold River 4 is .1 away; group could split)

 

8.4

 

13

 

Cold River 3 & 4 – Cold River 1 & 2 (2 lean-tos)

 

10

 

14

 

Cold River 1 & 2 – Wanika Falls (camping)

 

7

 

15

 

Wanika Falls – Old Military Road

 

7.7

 
Frequently Asked Questions 
Q: I have done multi-day hikes in other seasons, and day hikes in winter.  Am I qualified for this trip? 
A: No, but we have many outings and hope you find some that better fit your current experience. Having multi-day, overnight experience in winter conditions is a requirement to be considered.  The demands of multiple nights in these conditions should not be downplayed. 
Q: I cross country ski.  Can I ski this with the group? 
A: This trip will exclusively be a snowshoe trip.  The entire group will need to be proficient in snowshoeing and willing to share the demands of breaking trail most of the way. 
Q: I can snowshoe 15 miles per day, but I'm not fast.  Can I still be considered? 
A: Absolutely.  The longest day scheduled is under 13 miles, and the pace needs to be steady – around 2 miles per hour – but it does not need to be a fast pace.  Cardiovascular endurance and muscular endurance outweigh speed and power on this trip. 
Q: Is any specific gear required? 
A: Yes, though most experienced winter backpackers will already have all or most of what they need.  A gear list will be distributed to finalists, and a few items that are a must include: snowshoes and spikes/crampons, a minus 20 degree sleeping bag, a high volume backpack (~100 L), and a liquid fuel stove (among other items). 
Q: Is there a cost associated with this trip?  Can you explain the deposit? 
A: The $200 deposit will go directly back to participants in the form of lodging and related support.  This is not a "for profit" outing, and the NPT Chapter does not make money off of trips.  Whenever possible, we are seeking sponsors and other ways to defray costs, but the deposit amount (in addition to other personal expenses while on the trip) is a realistic minimum cost for expenses we will incur.  Additionally, the deposit sets an expectation that if you commit to the trip, you will stick to your commitment. 
Q: What are you looking for in your group members? 
A: We are looking for a diverse group of people with complimentary skills and personalities that can work together as a team over a long period of time, in demanding conditions.  While this expedition requires a certain amount of experience and fitness, our philosophy is more "variety is the spice of life" than "may the best man win". 
Please feel free to reach out with any questions to Diana Niland, NPT Outings Chair nptrailoutings@gmail.com put Winter Thru Hike in the subject line.